9 tags
Los Angeles Times: Proposition 32--A fraud to end... →
Proposition 32, on the November ballot, is nothing but an attack by Republicans and conservatives on unions and their members. August 19, 2012|Michael Hiltzik It was Lyndon Johnson who best understood that the key to political empowerment for the disenfranchised was to give them access to the electoral process. That's why he made passage of the Voting Rights Act of 1965 his top priority....
11 tags
Stop Special Exemptions
Our Tumblr is changing focus, to stop Proposition 32.  Proposition 32 stops working people from having a strong voice in politics. Proposition 32 gives a "special exemption" to corporations and lets them spend billions to control politics. Our fight against WalMart in Chinatown continues.  Please follow us here, and also bookmark our main website http://launionaflcio.org, and sign up...
1 tag
3 tags
Top L.A. mayoral hopefuls won't take campaign cash...
Two leading mayoral candidates vying for labor support said Thursday that they would not accept campaign contributions from Wal-Mart, the global retail giant that is beginning construction this week on a controversial new grocery store in Chinatown. Los Angeles City Controller Wendy Greuel and City Councilman Eric Garcetti made the pledge after pressure from labor groups, which take issue with...
4 tags
More Musicians Join in to Stop Walmart in LA
As we prepare to hit the streets of L.A.'s historic Chinatown on Saturday, June 30, for the largest protest against Walmart ever held in the U.S., several acclaimed musicians, including now three Grammy winners and union members, are joining the growing movement to stop the world's largest retailer from opening in Chinatown and expanding across Los Angeles with poverty-level jobs and practices...
1 tag
212 Walmarts in LA County?
In addition to the proposed Chinatown Walmart, stores in Burbank, Panorama City and Altadena have also been announced.  However, it looks like we may have only scratched the surface of Walmart's aggressive expansion plans for L.A. County. Based on a study that estimates that the world's largest company owns 21% of U.S. grocery markets across rural and suburban areas. If Walmart is to achieve its...
Wal-Mart's Legal Bribery →
by Peter Dreier and Donald Cohen This piece was previously published in Dissent. To overcome these obstacles and get its way in the United States, Wal-Mart has resorted to "honest graft." Its strategy includes giving campaign contributions to politicians, hiring well-connected lobbyists to do its bidding, mounting expensive PR and ballot campaigns to win public support, and buying the...
No Age to Headline Anti-Walmart Benefit in L.A. →
On June 29, No Age will headline an anti-Walmart benefit show in Los Angeles. It will take place at the performance space Human Resources in Chinatown, where the corporation recently acquired permits for a store. The show precedes a June 30 anti-Walmart demonstration at Los Angeles State Historic Park, the largest-scale protest of its kind to date. Proceeds from the show benefit organizations...
No Age To Headline Anti Walmart Benefit in LA... →
Hipsters don't like big corporations. They especially don't like it when the biggest giant of all — Walmart — moves into their backyard. Which is why noise-rock band No Age is headlining at an anti-Walmart benefit show in Los Angeles on Friday, June 29. Full story on Huffington Post.
ATTN GOP SENATORS: Walmart Is The Largest Food... →
Walmart's intentionally low wages force hard-working employees to need approximately $420,000 per year, per store, totalling $2.66 BILLION annually in Food Stamps and other taxpayer assistance … to survive. Reposted from Daily Kos.
Investigators Find Forced Labor at Louisiana... →
An investigation by the Worker Rights Consortium (WRC) has found labor law violations and inhumane treatment of workers at a Walmart seafood supplier in Louisiana. The 37-page report published Wednesday alleges Mexican "guest workers" are forced to work shifts of up to 24 hours during peak production periods, with as few as four hours between shifts. According to the report, workers are paid 40...
Walmex cuts 2012 investment, store opening plans →
* Lowers investment spending 11 pct to 17.48 bln pesos * Cuts planned store openings to 325-335 (Reuters) - Wal-Mart de Mexico, Mexico's biggest retailer, on Wednesday slashed its planned store openings for 2012 and cut its planned investment spending by 11 percent as it investigates allegations it bribed local officials to open stores more quickly. Repost from Reuters.com.
30 tags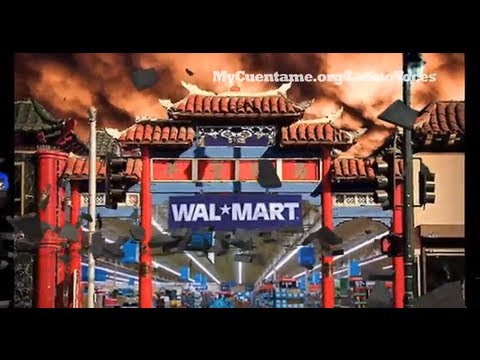 Watch
Congresswoman Judy Chu Tells Politicians: Don't Take Walmart's Money "I have never accepted a dollar of Walmart money and I will never take Walmart money," Chu told a gathering of reporters on Wednesday. "I call on all Los Angeles elected officials not to take Walmart's money — and to give it back if they've accepted those contributions in the past."
Wal-Mart PR Rep Poses as Reporter to Infiltrate... →
Wal-Mart, which has made headlines recently for allegedly bribing Mexican officials, was implicated in another public scandal this week. Stephanie Harnett, a public relations associate representing the retail chain in its application to obtain a building permit in Los Angeles, posed as a student reporter in order to infiltrate a closed press conference held by […]
Wal-mart: How Many More Undercover Wal-Mart PR... →
Yesterday, Stephanie Harnett, a young staffer at Mercury Public Affairs in L.A. who was working on behalf of Wal-Mart, was fired after she was caught posing as a reporter in order to spy on a press conference of a pro-labor group.
Wal-Mart's Spying Story Spreads Across the Pond:... →
Walmart on defensive after PR officer found 'spying' on union workers Company denies having Stephanie Harnett pretend to be a reporter to interview workers on job conditions A public relations officer linked to Walmart posed as a journalist at a press conference held by a labor group highlighting tough working conditions in the warehouses that supply big retailers. Stephanie Harnett,...
Wal-Mart's PR Firm Sent This Flack to Pose as a... →
Plaid Bag Connection blog: June 30 – 10,000 march... →
Are you going to be in Los Angeles on June 30? Do you care about equitable development for the city's poor and working-class people? Wal-Mart is planning to open up a grocery store in Chinatown, and a growing coalition of concerned residents, business owners, students, and union organizers are working to stop it. Please come to what will be the largest anti-Wal-Mart demonstration in US history...
1 tag
NBC 4: Chinatown Walmart Opponents Plan...
Opponents of a Walmart planned for Los Angeles' historic Chinatown neighborhood announced Wednesday that they would hold the "largest Walmart protest in the history of the U.S." on June 30. The proposed store would create a Walmart "Neighborhood Market" in a long-vacant commericial space below an apartment building at the northwest corner of Cesar Chavez and Grand...
3 tags
March Against the Walmart 1 Percent: One Family,... →
In recent months, an amazing statistic had been spreading rapidly across social media, blogs and traditional media outlets: The Walton family is the richest family in the United States, with a net worth of $93 billion. The Waltons' wealth is greater than the bottom 30% of Americans combined. You got it, one family's wealth equals the wealth of more than 35 million American families. Something...
4 tags
Some Walmart workers want better wages, affordable... →
By Hadley Malcolm and Jayne O'Donnell, USA TODAY June 8, 2012 [Janet] Sparks belongs to a loosely knit association of Walmart employees called the Organization United for Respect at Walmart — OUR Walmart, for short. They are prodding the giant retailer to provide better wages, affordable benefits and reasonably reliable schedules for store employees nationwide. Their campaign comes not...
Nearly 2,000 Women File Walmart Sex Discrimination... →
Nearly 2,000 current and former Walmart employees filed claims of discrimination on the basis of gender with the Equal Employment Opportunity Commission (EEOC). Complaints were filed in all but two states – Montana and Vermont – but at least one complaint was filed in every US Walmart retail region. The lawsuits were filed in response to last year's Supreme Court ruling on a class-action lawsuit,...
RSVP for the March on Facebook →
Stay up-to-date on the latest event speakers and news by RSVPing on our Facebook page for the June 30th rally and march.
Huffington Post: Walmart Outsourcing Depresses... →
Walmart, the world's largest retailer, has driven down wages in its retail supply chain by outsourcing jobs in American warehouses. Read the Huffington Post story
1 tag
LA Times Details Walmart Warehouse Workers' Plight →
The report released Wednesday by the National Employment Law Project said Wal-Mart, the world's largest retailer, has applied its aggressive cost-cutting to logistics, helping drive down pay and benefits for U.S. warehouse workers. The use of contractors and subcontractors represents a domestic "outsourcing" of warehouse operations that often relies on paid temporary workers, the...
3 tags
Watch
New report released by the National Employment Law Project shows how much damage Wal-Mart is causing communities. The report, titled "Chain of Greed," blames the world's largest retailer for using its influence to hurt workers across the country.
Chain of Greed NELP Report documents Walmart's... →
Major retailers like Walmart are driving down wages and workplace safety standards on a scale far greater that understood before, a report released today by the National Employment Law Project shows. According to "Chain of Greed": "Walmart sets the parameters for the working conditions in warehouses…but when things go wrong, it's the contractors that are blamed,...
1 tag
Download our June 30 rally flyer with event... →
March Against Low Wage Jobs SATURDAY, JUNE 30 • 10 A.M. Los Angeles State Historic Park (The Cornfield) 1245 N. Spring St., LA 90012 (213) 381-5611 x.126 • launionaflcio.org Please call us if you need a black and white version to photocopy.
4 tags
Watch
Wal-Mart Protest Hits LAX! On May 30 at LAX, 100 Los Angeles workers from "Hollywood to the Docks" gave a big send-off to five Wal-Mart associates headed to the annual shareholders meeting in Bentonville, Arkansas. Wal-Mart associates went to demand their employer, the largest retailer in the world, pay its workers decent wages. We'll be back! Saturday, June 30 at 10AM. Be with...
Plaid Bag Connection: Youth speaking out against... →
Lately I've been involved with a group called Chinatown Community for Equitable Development (CCED) which has been organizing against Wal-Mart's plan to open a grocery store underneath a senior citizen's home in the neighborhood. Today CCED put on a screening of the documentary Wal-Mart: The High Cost of Low Price aimed at neighborhood youth. Several current and former Wal-Mart employees and the...
4 tags
L.A. Labor Gives Big Send-Off for Workers Headed...
Carrying signs that read: "Wal-Mart: Everyday Low Wages," "Wal-Mart: How the 1% Hurts the 99%" and "L.A. Won't Be Bought Off," more than 100 Los Angeles workers from "Hollywood to the Docks" flooded the sidewalk outside of the Los Angeles International Airport (LAX) in support of five Los Angeles Wal-Mart associates departing for the annual shareholders meeting in Bentonville, Ark. Thirty...
2 tags
1 tag
Grupo comunitario apela decisión de Walmart
Grupos comunitarios en Chinatown que han tratado de prevenir que la empresa Walmart levante una de sus tiendas en el área, presentaron ayer una apelación de 29 páginas frente a la negativa de su petición. La apelación presentada al Departamento de Planificación viene dos semanas y media después de que el Departamento de Construcción y Seguridad de Los Ángeles (LADBS) denegó la primera apelación...
March Against Walmart In LA: Chinatown Store... →
Greg Fletcher, Duarte Walmart Employee At a rally Thursday against a new Walmart "Neighborhood Mart" moving into Los Angeles' Chinatown, employees argued the retailer's low wages have driven them to depend on food stamps and Medi-Cal, California's Medicaid program. Reposted from The Huffington Post Story by Kathleen Miles Posted: 03/ 9/2012 1:32 pm Updated:...
1 tag
Community Leaders in LA's Chinatown Question if...
On Sunday, The New York Times made international headlines when it published an investigation that found executives from Wal-Mart's Mexican subsidiary reportedly used systematic bribery to receive expedited building permits across the country. Now community leaders in Los Angeles say they're suspicious of how Wal-Mart received building permits just hours before the city council voted unanimously...
1 tag
Walmart Critics In New York City, L.A. See...
A scandal surrounding Walmart over alleged bribery in Mexico is turning into fresh meat for its opponents in the United States. Labor unions and activist organizations fighting the big box retailer's push into New York City and Los Angeles are drawing parallels between the company's domestic expansion strategies and its alleged illegal tactics in Mexico.  In New York City on Tuesday...
1 tag
Chinatown Small Businesses Face Uncertain Future...
A white ceramic money cat on the counter waves its left paw to customers entering MC Marketplace in Chinatown, signifying good fortune in Chinese culture.  Michael Lo, 50, owner of the 400-square-foot convenience store says good fortune is less likely if Wal-Mart opens a grocery store two blocks away. Read the full article here.
1 tag
Opposition appeals for no Walmart in Chinatown
The Los Angeles City Council on March 23 voted to adopt a proposal from Councilman Ed Reyes to temporarily ban the construction of large retail chains in Chinatown. But the vote couldn't stop plans for a Walmart grocery store in Chinatown because hours before, the big box conglomerate had already received permission from the city's Department of Building and Safety to build the store. ...
1 tag
L.A. Chinatown Fight's Still On: Groups Appeal...
It was quite a sucker punch Walmart landed against the community last week in the über-retailer's fight to open a 33,000-square-foot store in Los Angeles's Chinatown. The shot sneaked in, quick, low and hard – but ultimately didn't end the match. The scene last week: Los Angeles City Council chambers in City Hall, minutes before a unanimous March 23 vote on an emergency motion to temporarily ban...
Appeal filed against permits in Chinatown Wal-Mart...
A community group has filed an appeal to try and prevent the construction of a 33,000-square-foot Wal-Mart in Chinatown. Los Angeles Alliance for a New Economy has challenged the building permits claiming that local businesses and communities will be disrupted by its mega presence. Other residents support the plan. Read the full story here. Source: KPCC 89.3 FM
1 tag
Vecinos apelan en contra de Walmart
Una semana después de que se aprobara el permiso para que una tienda de comestibles de la cadena Walmart pudiera abrir sus puertas en Chinatown, un grupo de activistas que teme que esa compañía destruya los pequeños comercios característicos de ese barrio, presentó una apelación. El grupo que se opone, que consiste de unos 15 negocios y más de una docena de residentes de Chinatown, llevaron los...
1 tag
L.A. Groups File Wal-Mart Appeal
LOS ANGELES — Opponents of the city's decision to allow Wal-Mart to open a Neighborhood Market in the Chinatown section of downtown Los Angeles filed an appeal Thursday with the Department of Building and Safety over the permits it approved last week. The appeal was filed by the local chapter of the Asian Pacific American Labor Alliance, in conjunction with the Los Angeles Alliance for a...
1 tag
Appeal filed against LA Walmart building permits
LOS ANGELES (AP) — A Los Angeles community group has filed an appeal against the building permits granted to Wal-Mart Stores Inc. to build a new store in the city's Chinatown neighborhood. Los Angeles Alliance for a New Economy spokeswoman Allison Mannos said Thursday that the local community feels that the area and local businesses will be disrupted by the large retailer's...
1 tag
Chinatown Walmart: LA Politicians Disagree On...
Since Walmart announced its plan to build a store in Chinatown, the local community and Los Angeles at large has been buzzing about it. Chinatown business owners, residents and various groups have spoken vehemently either for or against the pending Chinatown Walmart. But what are our elected officials saying? Many are saying nothing. Our own mayor, Antonio Villaraigosa, has been elusive on the...
1 tag
Chinatown Wal-Mart building plan faces appeal by...
CHINATOWN, LOS ANGELES (KABC) — There's an appeal in the works to try to stop Wal-Mart from building a store in Los Angeles' Chinatown neighborhood. A spokesperson for Los Angeles Alliance for a New Economy said the local community and small businesses will be disrupted by the large retailer's presence. Read the full article here.